Ashleigh Palmer
Board Member
Ashleigh Palmer, is the co-founder and CEO of Provention Bio, Inc., a clinical-stage biopharmaceutical company dedicated to sourcing, developing and commercializing novel therapeutics and cutting-edge solutions to intercept and prevent immune-mediated disease. Ashleigh is a life sciences industry entrepreneur and innovator with more than 30 years' experience and expertise in corporate strategy formulation, preclinical and clinical drug evaluation and product development and commercialization.  During his career, Ashleigh has served as CEO for multiple biopharma companies (both private and public) and held numerous board director and chairman positions. In addition to leading Provention, Ashleigh currently serves as Chairman of Celimmune, LLC, a clinical stage immunotherapy company dedicated to developing transformational therapies for celiac disease and other serious immune-mediated diseases, and also President and Founder of Creative BioVentures™ Corp. (CBV), a strategic advisory firm serving the biopharma industry.
 
Prior to founding Provention, Celimmune and CBV, Ashleigh was Vice President, Business Development for British Oxygen's Ohmeda Pharmaceutical Products, Inc., where he was instrumental in its sale to a consortium led by Baxter International Inc. by spinning out the company's inhaled nitric oxide assets as INO Therapeutics, Inc. (now Ikaria/Mallinckrodt). Under his leadership, as founding President and CEO, INO Therapeutics developed and commercialized the world's first selective pulmonary vasodilator, INOmax®, acquired by Mallinckrodt in 2015 for $2.3 billion.  Earlier in his career, Ashleigh held positions of increasing responsibility in sales and marketing leadership at Reckitt Benckiser. Educated in the UK, Ashleigh received his MBA from the University of Bradford and his B.Sc. honors in Biochemistry and Applied Molecular Biology from the University of Manchester.
Jeffrey Scott McCormick
Board Member
Jeff is the Chairman and Managing General Partner of Saturn. He founded Saturn in 1993 to help capitalize and grow early stage companies including: the extremely successful business to business e-commerce company, FreeMarkets (FMKT, acquired by ARBA); the largest U.S. biodiesel company, Twin Rivers Technologies (acquired by FELDA); email marketing company, Constant Contact (CTCT); and the ever popular Boston Duck Tours. Saturn Partners II and III have invested in cutting-edge technology companies in healthcare, education, environmental energy, and IT.
Jeff has over 25 years of experience as an investment banker, entrepreneur and venture capitalist. He currently serves on several boards including BioWish, Knopp Biosciences, Third Pole, and XNG Energy.
Jeff is a graduate of Syracuse University, where he received an MBA in Finance and a BS in Biology. He was a Collegiate Scholar Athlete, first team All-American lacrosse player, and a captain of Syracuse's first NCAA championship lacrosse team.
Jeff is a Vice Chair of the CitiCenter for the Performing Arts. He serves on the Dean's Advisory Committee of the School of Management at Syracuse University and is the founding Principal Sponsor of the Sean McDonough Charities for Children Foundation. He is actively involved with Trinity Church in Boston.
Jeff is married with three children.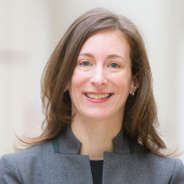 Erin McKenna
Board Observer
Erin currently serves as a Board Observer at Third Pole, and brings over sixteen years of medical device product development and commercialization experience.  She represents Partners/Massachusetts General Hospital on the Third Pole board, where she is a leader in the Boston Biomedical Innovation Center, a life sciences accelerator funded by the National Institutes of Health. Erin started her career in Research and Development at Boston Scientific, and launched several vascular graft and peripheral embolization products before shifting her focus to identifying and implementing company-wide product development lifecycle process improvements. She received her MBA and MS degrees from Babson College, her BA from Stevens Institute of Technology, and holds 9 issued patents.